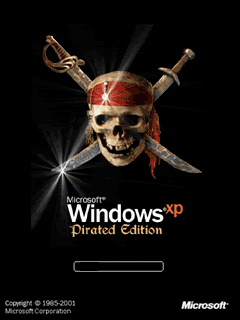 Many of the Windows XP non genuine copy users at some point of time might have encountered a message
"This copy of Windows is not genuine. You may be a victim of software counterfeiting".
If not you are really the lucky ones you managed to sneak out from the Microsoft watch dogs. We will discuss how to get rid of this message if you appear to have this.
How To Remove The Windows Counterfeit Notification?
The problem is due to the use of non-genuine copy of Windows XP. We strongly recommend to click on through their link and buy a copy of WindowsXP thus eliminating software piracy.

Method 1:
The WGA crack works perfectly on and allows users to access Windows Update, Microsoft Update and Microsoft Download Center. The usage guide (installation instructions) is as usual:
Step1: Extract into a new empty folder
Step2: Run installer.bat
Download Windows.Genuine.Advantage.Validation.v1.8.32.1.CRACKED.rar.
Method 2:
Step1:
If you are using Windows XP Home,then open Task Manager (Press Ctrl+Alt+Del) and stop wgtray.exe.
If you are using Windows XP Professional,then enter into the Safe Mode Open Task Manager (Press Ctrl+Alt+Del) and stop wgtray.exe.
Step2:
Now delete the wgtray.exe from the following locations:-
1. C:WindowsSystem32
2. C:WindowsSystem32dllcache

Step3:
Press Start and select Run and type regedit and click OK.
Step4:
Naviagate to the following location:-
HKEY_LOCAL_MACHINESOFTWAREMicrosoft… NTCurrentVersionWinlogonNotify
Step5:
Delete the entire folder WgaLogon ,close the registry editor.
Step6:
Restart the system.
After the restart if it again prompts to reinstall those services then:-
Start>run>msconfig>ok
Click Services tab and uncheck from there.Apply and restart.
We Recommend You To Use Original Microsoft Windows Software